One of the dearest people in my life is my sister.
I painted this painting for her while I was in Denmark – in fact it came together very spontaneously and fluidly a summer afternoon on the grass in the garden. When I showed up to her place with it I pretended I just wanted to store it there while traveling to Norway, which gave me an opportunity to see her reaction to the painting before giving it to her. If she did not seem particularly moved I would have not given it to her, because I wanted her to really love it. Well, her reaction was better than hoped and I could tell she really liked it even before she knew it was for her. Needless to say my mission to make it an early birthday present for her was accomplished.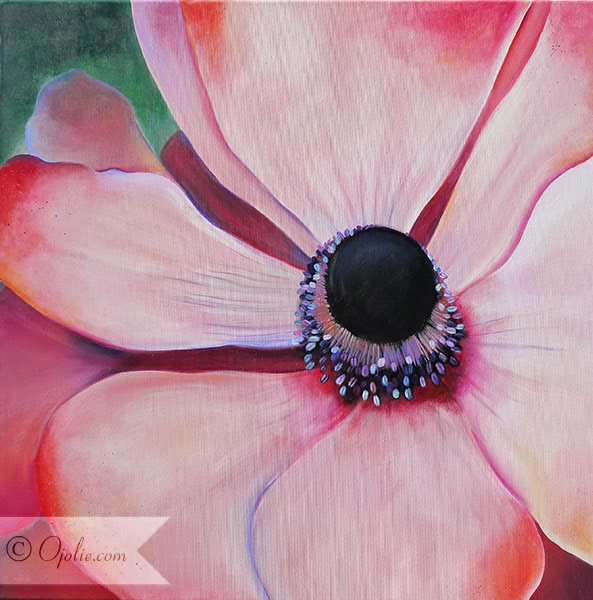 "Ode to O'Keeffe", Acrylic on Canvass, 80x80cm
This painting was inspired by my love of Georgia O'Keeffe's paintings of flowers, hence it is titled "Ode to O'Keeffe", although in many ways it is nothing like the paintings O'Keeffe painted. For one, most of her flowers really do bear an uncanny resemblance to a certain part of the female anatomy.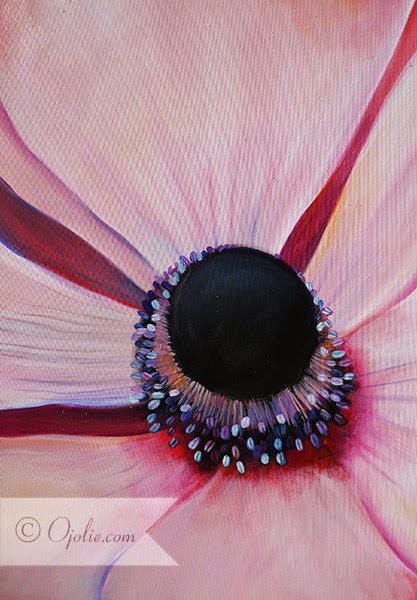 Detail of "Ode to O'Keeffe"
When painting with super strong colors, especially reds and pinks, on a larger canvass it is easy get worried mid process that the end result is going to be a too bold or (shock) even crass and tacky. You have to push past that and allow it to play out, because somehow by the time you put the final details in place things start to finally make sense. It is hard to explain, but this is where experience and having faith in the artistic vision help – and worst case if the end result is still horrible you chuck it up to experience and the need to experiment. This is exactly what happened with this painting – while I was working on it I was getting a bit worried about the huge areas of pink and red, but by the time I was painting the little pollen pods, it was all starting to gel quite well.
Texture is really important to me when painting, whether it is watercolor, acrylics or any other medium. For some pieces you want that absolute smooth finish and perfect gradients, but for this piece it was important to add interest into the big areas of bold color by using texture. If you have ever observed the surface of flower petals really closely, you will notice many are almost covered with surface of fine hair or powder. When the light hits at a certain angle it shines and glistens … it is really magical.