This year we have gone to extra lengths to provide you with more cards for the holidays than any year before. I sincerely hope you will find several cards that are just right for penning your holiday greetings and so I am happy to announce two more cards.
"Santa's Special Night" is perhaps one of the most complex animations I have created to date, although there are a few other cards that can compete. This card was inspired by the spirit of going out of our way to delight and surprise those around us that are dear to us. After Santa leaves the workshop the little elves get mighty busy preparing for his return.
Santa's Special Night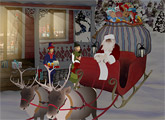 "Jazzy Christmas" is very different from the above mentioned card, setting the mood for relaxing and getting all cozy and snuggled up to something – or someone – warm! Over hot chocolate with tons of whipped cream. And of course cats are just about as laid back as it gets, so naturally take center stage in this card. Set to a great piece of jazz on piano and sax and I think you get the picture.
Jazzy Christmas
For a limited time we are also offering a free gift membership when you sign up or renew for a 2 year membership. This way you save both on the lower membership cost of just $15 for two years and have a wonderful gift you can share with someone who might also like to use the cards. Since we have never had a promotion like this before, we are only trying it for a limited time, so take advantage of it while it lasts. See the detail of the promotion.
You may also have noticed that we have launched the site in French, Spanish and Dutch in order to reach more than just the English speaking world. So if you have friends and family who prefer to receive cards in one of these languages, you can now select the appropriate language when you send your cards. The recipient will receive their email notification in the language you selected for the ecard. If you have been using English all along and prefer that, just ignore any of this as English is the default language.