As the year draws to a close we want to thank you for your support and many encouraging comments. Some of the mails we received have been profoundly touching, others immensely helpful in their constructive criticism, and either way we want to encourage you to keep sending them!
In the past few weeks we have added three more cards for the holiday season. The latest addition, "Juletide", seeks to capture some of the season's spirit in my own country, Denmark. It is inspired by one of my favorite Swedish watercolor painters, Carl Larsson. He painted his homelife in the picturesque countryside and his images very much conjure up the idyllic feeling of family, nature and of course Scandinavia. Most of the card is rendered by hand in watercolor to capture his unique style. The card is well suited for any kind of seasonal as well as secular greeting, including New Year, and features a pair of cats and a pair of mice.
JULETIDE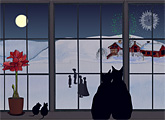 The second card puts a new twist on the ballet choreographed to Tchaikovsky's Nutcracker Suite. This card also features many hand rendered watercolor elements and was difficult and time consuming to animate as the ballerina absolutely had to dance gracefully in proper ballet moves!
WINTER WONDERLAND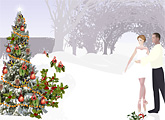 The third card features the story of the nativity. Because this theme is so ever popular I have placed great emphasis on execution; you really must see this card for yourself, as I have tried to give it my own artistic vision and great attention to detail.
NATIVITY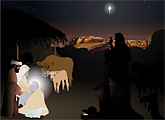 We Wish you a Happy and Healthy Holiday Season & A Wonderful New Year!