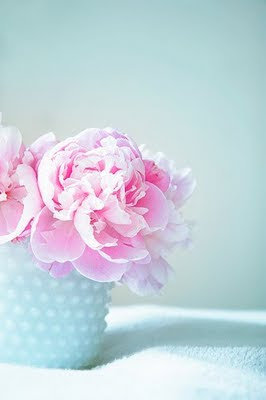 photo by
yellowgoatdesign
on flickr – creative commons license
If you have a little extra money to splurge, my favorite choice is peonies. A few blooms will making an amazing display. But if you are on a tighter budget you can still making some very tasteful arrangements using everyday flowers from the grocery store.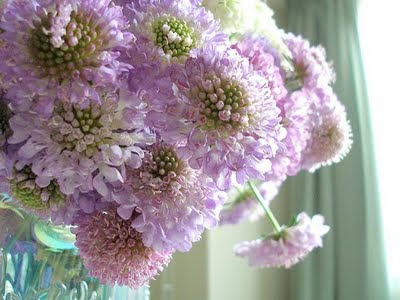 photo by
tanakawho
on flickr – creative commons license
A simple bouquet of yellow solidagos and blue statice can make a stunning, but inexpensive and very full display. And the best part is that they dry really beautifully – in fact the blue statice will not fade and looks stunning against the mellow dried solidagos.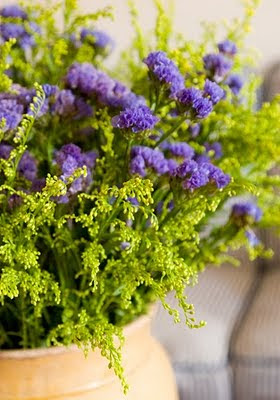 The solidagos and blue statice are set in a inexpensive rustic vase I found at a local rummage store
The same concept can be applied to other inexpensive flowers. As long as you avoid the mixed bouquets which are often rather tacky and opt for one big splash of color by using only one or two types of flower, even those who claim they don't know how to arrange flowers can make a fancy looking arrangement.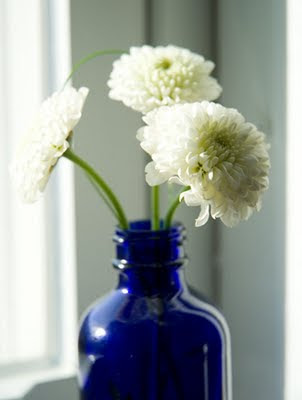 Use unconventional containers as vases, such as small colorful glass bottles for a simple arrangement in the bathroom or even canning jars for – GASP – baby's breath 🙂 Baby's breath will actually look charming as long as you don't use it with a mixed bouquet or roses.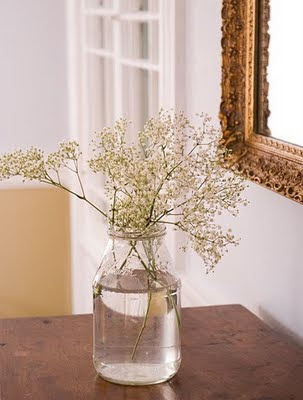 Sometimes flower arranging is about thinking outside of the box and stretching the budget to go a little further.