To show my appreciation for your support I created my own designs for making paper ornaments, which I have included in this new card along with instructions. I have also included instructions for making a traditional folded paper star and a woven heart and I want to share a little bit about the tradition of making these ornaments with you.
Paper Stars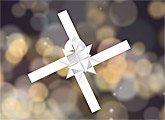 My Scandinavian forbears developed traditions that helped them cope with the cold and dark winter days. One of my favorite has always been gathering with friends and family in the weeks before Christmas to make handmade paper ornaments while sipping on warm gloegg and eating aebleskiver by candlelight, tucked under a blanket and wearing big fluffy slippers. This is what we call "hygge". It is a concept that is difficult to translat but is very important in my culture:
"the word describes a particular state of mind, an atmosphere, the creation of a little mental and physical space where the turmoil and troubles of the outside world is shut out and a warm, intimate, convivial mood is created. The desire for hygge is a hugely motivating force in Danish culture and has a lot to do with the long dark winters. From the beginning of October all the way until the end of March darkness rules the country and the sunshine is a sad, pale thing. When it's cold and gloomy outside for this long, moods tends to follow suit and to stave off an annual dip into depression, the Danes have developed the art of creating hygge into a fine art, and almost a national obsession."

To read more go to this website which is the source of this nice explanation.
The card is of course perfect for friends and family members who love crafts, but I have found that almost everyone seems to enjoy getting together with other people and folding a few paper stars or hearts while decorating the Christmas tree. The competitive in my family even went as far as trying to make the stars smaller and smaller using tweezers to see who could make the smallest star. Many of the ornaments were traditionally made to function as little baskets that were filled with nuts, dried fruits, chocolates and candies in a time when presents had not yet made their appearance under the tree because most people could not afford such luxuries. These homemade ornaments have come to symbolize the deeper meaning of Christmas to me, one that is centered around a shared experience, simple joys and a little hygge.
Here are our other Christmas ecards.
Enjoy and keep warm!
If you have any comment or suggestion, you can write on our Facebook wall!
Do you have a website or blog? Link to us! Visit our link to us page for links, banners or card of the month. Thank you for your support.