Our newest card combines fantasy with storytelling for something a little above and beyond what we usually do for one card. The inspiration for this year's Earth Day card was seeing the desert spring to life with flowers after it rained for the first time in over a decade year's ago when my family lived in Chile.
The Spring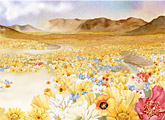 The life sustaining power of water will be a hot issue in the years to come as the world struggles to adapt to a changing environment all over the world. No wonder then that Earth Day, April 22, has become an international movement. Our small contribution is to offer this new card for Earth Day free of charge for all to send.
We will be adding our new card for Easter to the site shortly. In the meantime we hope you find creative ways to contribute to the global Earth Day celebrations on Friday.
Here are our other free ecards.