This summer I spend about ten days painting in the north of Denmark and trying a new medium for me, water mixable oil paints. Since I normally paint with mostly watercolors and acrylics this was a real change in pace, as the longer drying times of oil presented a particular challenge while travelling.
But I must say I loved the richness, the vibrant colors of the pigments and the final result of the oil paints. And being water mixable means there are no nasty fumes to put up with. So after stocking up on four canvasses and paint in Copenhagen, I set off with my kids for the coast and the little cabin we would spend the next ten days in.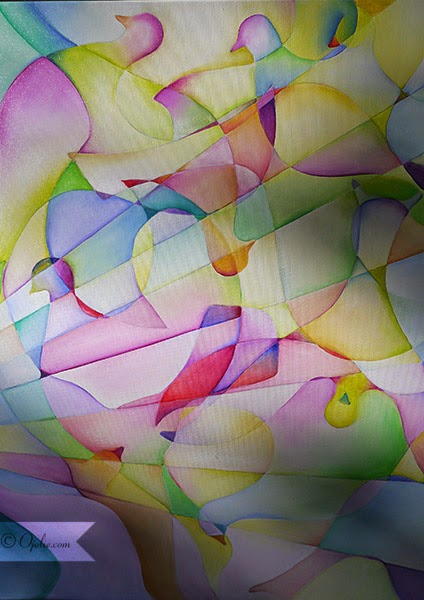 "Flights of Fancy"
Oil on Canvass
by Frederikke Tu
As luck would have it, this July was so hot in Denmark, it was almost unbearable to be outside some days, so I moved the garden furniture inside and made it my painting studio. Luckily the cabin had lots of glass and it still felt like being outdoors.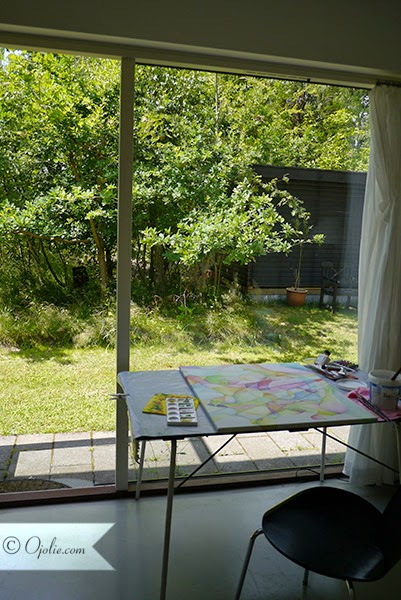 Could you imagine a lovelier studio while on the road? Happy memories …
For the first painting I decided to forgo a grounding layer, which I normally would use with the acrylics, since there was a time constraint. As you can see from the photos, the paint goes on nice and thin with the water mixable painting medium that is part of the range. I have since bought a painting paste as well, which is more like the paints in thickness.
I did find that the key was not to use both water and painting medium together, or I would get some tackiness and the paint would not spread easily. So you either use a little water or you use painting medium, but not both. I also discovered that the white dries much slower than the other paints, so areas with more white needed more time in between coats. As you can also see from the photos, the colors start looking really amazing after the second coat, so a second coat really is a must, especially without a grounding layer.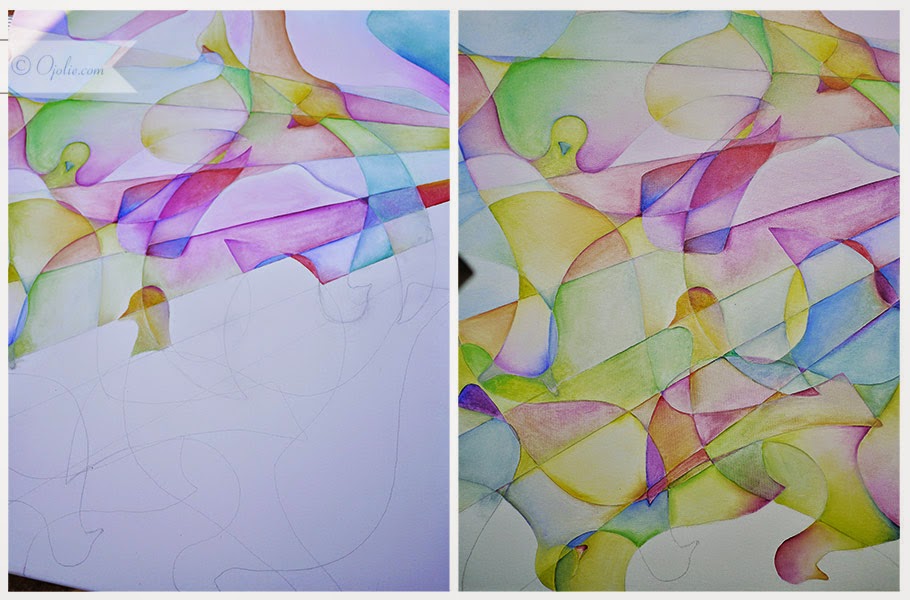 Painting the first coat – a little streaky, which second coat takes care of
I waited a few days between coats and in total this painting took three days to paint, much longer than a similar painting would have taken me with acrylics. But I think the results are worth it and for many things this medium will still be my new favorite. I still love acrylics, just for the sheer convenience and speed, but acrylics do lack something in the final feel and touch. However they gel well with my temperament and allow me to work in my own impatient and frenzied pace.
If you would like to try water mixable oil colors yourself, there are several brands that offer them. I choose Cobra from Talens. But enough about the medium, I will let the painting speak for itself! Let me know what you think.