The newest addition to our collection of artistic animated ecards is a frightfully funny card for Halloween that is also sure to please the eye titled "Scared Witless". The carved pumpkins on the porch stairs take on a life of their own …
Scared Witless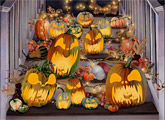 When I first moved to the US, Halloween was a bit of a culture shock to me. By now of course Halloween celebrations have become a much more international phenomenon – what is not to love about a holiday that gives adults and children alike license to have a scary fun time? Our annual Halloween card is also a license to do something a bit different from what we do the rest of the year. This year we had a lot of fun with it, all while sticking to our usual attention to detail and fine artistic execution.
Here are our Halloween eCards.
Enjoy and have a great Halloween!