This year I wanted to create a Christmas card that would be really entertaining for people of all ages, while staying true to our mission to create something artistic and tasteful. We started planning this card many months ago and it includes some of our most challenging animation to date – three hip-hop dancing rats with lots of personality as well as an elegant fairy all strutting their stuff to a nice up-tempo version of "Sugar Plum Fairy". The characters in the card are as proud as we are of the final results – to see what I mean watch the card. I hope you will find it truly entertaining to watch.
Christmas Vibe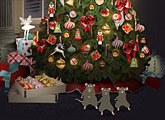 We also released a second version of the card "Midnight Mass" with a different choice of music – the second version is titled "O Holy Night" and includes the Christmas carol by the same name.
O Holy Night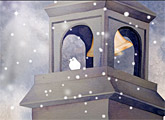 The holiday season is a time to give thanks, and we are very thankful for all your support, constructive feedback and comments. We still have two more cards on the way before the New Year, but my personal resolution for the coming year is to keep challenging myself to stay creative, keep learning and give your more great cards to send.